Lately, Shahrukh Khan and Deepika Padukone are in the limelight for their upcoming film 'Pathan'. After the release of the teaser of the movie, the filmmakers are connecting with the fans by posting various posters of the movie and related materials on social media. In this film, Shah Rukh Khan will for the first time ditch his romantic persona and be seen in intense action. The first song of the movie 'Pathan' 'Beshram Rang' was released on Monday before the teaser. In this song, one can see the sensual chemistry between Shahrukh and Deepika. But after the release of this song, the trend of the boycott started on social media.
Boycott 'Pathan' trend started on social media
On social media, some are calling for a boycott of the movie starring Shah Rukh Khan and Deepika Padukone just hours after this song was released. On social media, the phrases "boycott" Pathan and "boycott Bollywood forever" are frequently trending. Social media users are criticizing Deepika Padukone's dancing and bikini appearance in this song. Many people who are running the boycott movement against Pathan claim that Bollywood is also encouraging vulgarity and violence.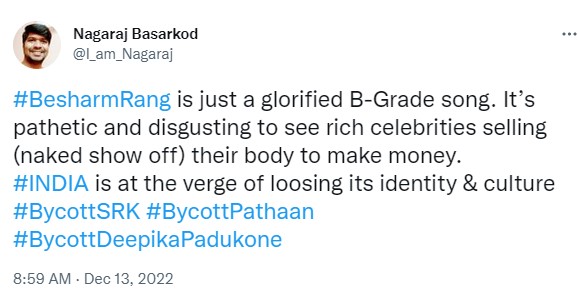 People made such tweets about Besharam Rang songs
Regarding this song, a user stated, "Bollywood is using vulgarity and violence to promote which is creating a negative impact on society.
Stop watching their movies. 

Another person said, " Nothing to celebrate, sir. not fond of human flesh all around, wrapped in a few inches of cloth.
Hence, I will Just #boycottPathan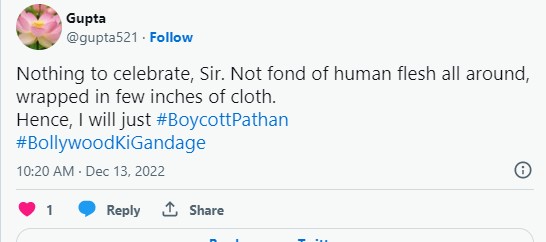 Here is another Tweet saying"Deepika Padukone has done over 30 movies.
If she still needs to do this to sell their movie, it speaks a lot about the absolute state of B'wood and sheer garbage they produce.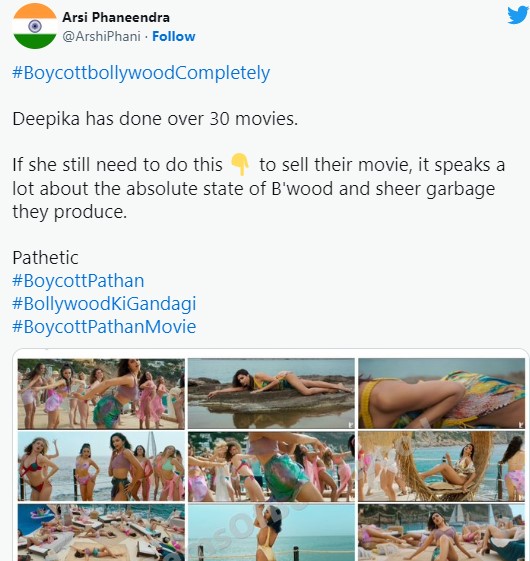 The movie Pathan will be released in theaters in 2023.
The Yash Raj production Pathan, starring Shah Rukh Khan, will hit theaters on January 25 of the year 2023. There will be a lot of exciting action in this movie starring Shah Rukh Khan and John Abraham. The audience will get to see Deepika, Shah Rukh, and John together for the first time. Now it remains to be seen whether when Pathan gets out of this boycott and releases in theatres, the film will succeed in leaving an impact like Brahmastra or Shah Rukh Khan's film will also fare badly like Lal Singh Chadha.